A Little Christmas Basket
From ImmortalPoetry
Jump to navigation
Jump to search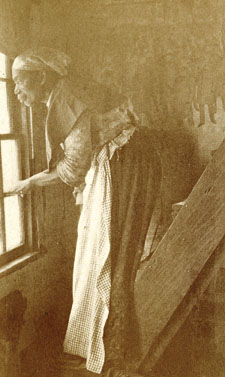 De win' is hollahin' "Daih you" to de shut-
tahs an' de fiah,
De snow 's a-sayin' "Got you" to de groun',
Fu' de wintah weathah 's come widout a-askin'
ouah desiah,
An' he's laughin' in his sleeve at whut he
foun';
Fu' dey ain't nobody ready wid dey fuel er dey
food,
An' de money bag look timid lak, fu' sho',
So we want ouah Chrismus sermon, but we'd
lak it ef you could
Leave a little Chrismus basket at de do'.
Was 's de use o' tellin' chillen 'bout a Santy er
a Nick,
An' de sto'ies dat a body allus tol'?
When de harf is gray wid ashes an' you has n't
got a stick
Fu' to warm dem when dey little toes is col'?

'T ain't de time to open Bibles an' to lock yo'
cellah do',
'T ain't de time to talk o' bein' good to men;
Ef you want to preach a sermon ez you nevah
preached befo',
Preach dat sermon wid a shoat er wide er hen;
Bein' good is heap sight bettah den a-dallyin'
wid sin,
An' dey ain't nobody roun' dat knows it mo',
But I t'ink dat ' ligion 's sweeter w'en it kind o'
mixes in
Wid a little Chrismus basket at de do'.

Wha 's use o' preachin' 'ligion to a man dat 's
sta'ved to def,
An a-tellin' him de Mastah will pu'vide?
Ef you want to tech his feelin's, save yo' ser-
mons an' you' bref,
Tek a little Chismus basket by yo' side.